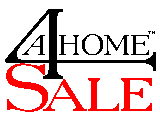 PROPERTY WANTED SUBMISSION
---
By submitting the Property Wanted form you are agreeing to the Terms And Conditions of advertising with AHome4Sale. Please proof your advertisement as soon as possible and notify AHome4Sale of any errors. AHome4Sale is not responsible for errors.
To post your ad use this form - Property Wanted.
This is a free service offered to Buyers.
---
Visit:

Website comments or questions, please send us an email.
This page is brought to you by AHome4Sale.com
DISCLAIMER TERMS AND CONDITIONS
Copyright © 1999, AHome4Sale, All rights reserved.
The name AHome4Sale and the AHome4Sale logo are trademarks of AHome4Sale.