Rural Beach Area Property
On the Main Road
Playa Panama ~ $120,000
Costa Rica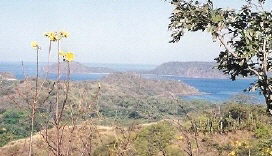 Enjoy life in the tropics with birds singing, afternoon showers, home grown fruits and much more only 1 mile from the beach in a small rural pueblo at the Heart of Costa Ricas international Tourist Development Project. All top grade utilities, access roads are paved, the new Liberia International Airport is just 15 min. away along with all the services you need. Everything you want is just a few minutes away, yet you will be far enough outside of the clatter and hustle to relax and enjoy life. Grow your own fruits and veggies, keep a horse or raise house pets. Enough area to build a mutilple family hacienda or even some rental units. Over 300 feet of road front. Beautiful rural setting with lots of trees and wildlife to enjoy. The land is flat and ready to build. All this at a Very fair price. Now if this is too small?

An ajacent Parcel is also for sale at US$ 160,000. This one has 2 road fronts, is slightly larger and has 3 prefab concrete worker houses, fruit trees, irregation and all utilities.

If that is still too small - Ask me about the Mountain with full ocean views. It faces NW,with nothing to obstruct the views. Trees, wildlife, plenty of water and spectacular views overlooking the International tourist developements around the bay. Zoning allows approx. 800 bdrm units.

Why would I want to sell such a beautiful site after living here for 25 years? Unfortunately, 3 family members have passed on and It is just too much for me to handle alone, however, I am keeping the lowerland between the parcels and the mountain.

Just 1 mile from the beach

Deep water well and city water, 3 phase electricty on the road., Bus service every 2 hours, restaurants, entertainment, close to all services. Large International Communities, all access road to area are paved, only 1 mile of solid dirt road to site.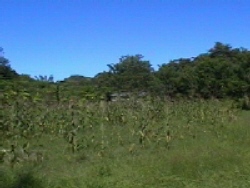 Driving Directions: West of Liberia Intl Airport 20 min. on present road. North from Playas del Coco and Playa Hermosa. 600 meters south of the Football Plaza
---
Contact:
Susan Fletcher -- Main Road -- Playa Panama, Costa Rica 05019
Day Phone: 506-672-0020 -- Night Phone:
Fax: 506-672-0010 -- Email: susanfletcher@hotmail.com

Print a brochure.

(May03)